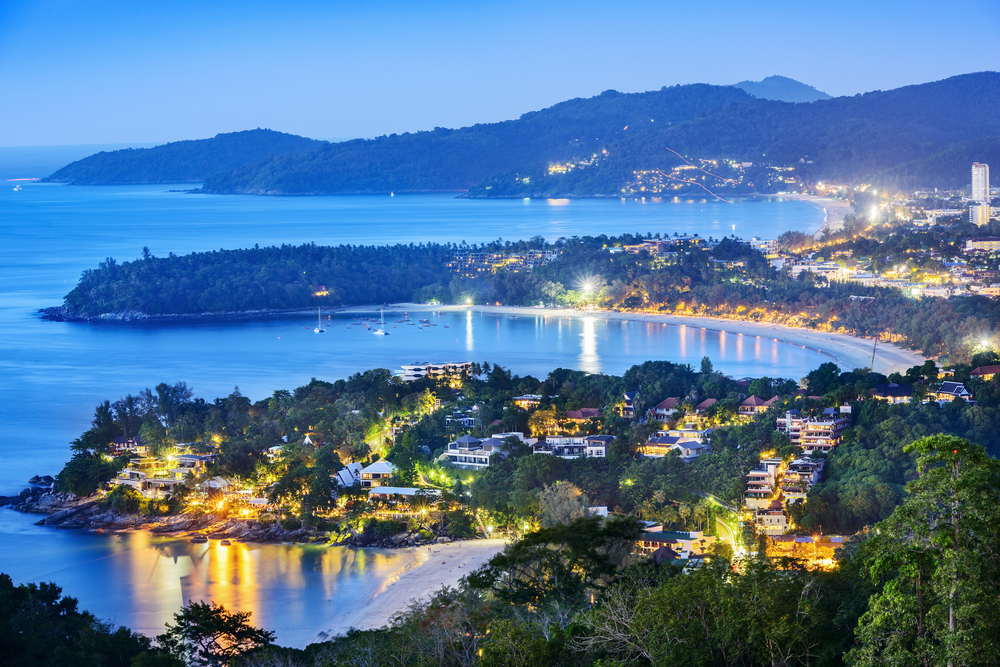 29 Jan 2019
Revel in the Phuket Nightlife
Embrace the Phuket Nightlife experience
When visiting Thailand, almost everybody will experience the Phuket nightlife in some form or another during their visit, and you may be surprised to hear…. there's a lot more to the nightlife scene than you'd imagine.
The Phuket nightlife area
So where is the nightlife in Phuket? The Phuket nightlife area is actually dispersed all over the island, however, you'll find the more intense, party scenes in only two areas. Patong is centralized around Bangla road while a less condensed collection of cool, small, independently owned bars and restaurants operate at night in Phuket town.
Phuket nightlife activities
Whilst most travelers come to Phuket for the pristine beaches, resorts and fun tours throughout the day, below you will find the best of Phuket things to do at night. The options for family-friendly nightlife in Phuket activities are many and varied.  Here's a few to get you started….
Phuket Night Market
Most visitors to Phuket find the night markets near Phuket town fascinating as they have a huge number of vendors offering a very interesting array of products to choose from.  Clothes, Street food, souvenirs, knock-off handbags, real leather goods made locally, the leather of which comes from all sorts of exotic animals, kids' toys, sportswear, live pets, etc. …you name it.  It's probably there!
The whole atmosphere is fun and almost carnival-like.  Bright colors, amazing aroma's, a busy place with hundreds of vendors and shoppers, and generally a good outing for the whole family with many bargains to be had.  If you need to take souvenirs home for friends and family, that you missed out on getting during the trip, this market would be the perfect place to tick off that task in one hit.
It's also worth noting that the level of 'humbug' you'll find from vendors eager to sell you their wares, is a lot more manageable than a lot of other tourist type marketplaces you'd come across in the developing world.
To get there, I'd recommend a taxi; just grab a taxi or tuk-tuk from wherever you are. Phuket public transportation whilst very cheap is still quite primitive, so rely on it only if you're looking for an adventure (think wooden bench seats, open-air trucks with no-aircon, and lengthy transit time).  From most of the western beach areas, you can expect a drive of between 20-45 minutes to get to the Phuket night market.  It's located on the western outskirts of Phuket town, quite close to Central Festival shopping center, a large western style shopping mall in the middle of Phuket island.
Thai Cultural shows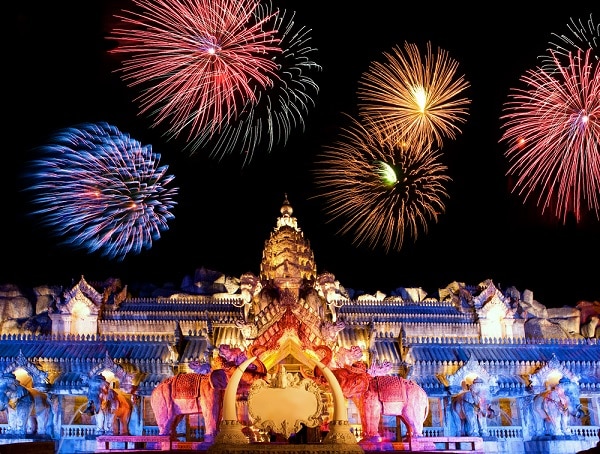 For many decades now, Thailand has been very well known for its cultural shows.  Phuket has two of these, namely Phuket Fantasea, in Kamala, and Siam Niramit, located in Koh Keaw on the bypass road (You will likely pass by it on the way from the airport to Patong).
Both of these establishments are quite large scale productions and are a great way for the family to be introduced to some of the customs and history of Thailand in a fun and entertaining environment.
If you're thinking of dancing elephants, elephants that paint, play football etc…. then you've pretty much nailed what these places offer.  If that's not your cup of tea, then I can say that despite the animal antics, they do both provide a very colorful, musical event. This involves choreographed dancing, very detailed costumes, and in the end, you will actually leave with a better understanding of the performance culture and history of Thailand.
Siam Niramit, has less of an animal focus but has some very interesting areas to wander through that consist of mock farming villages from different regions around Thailand.  This experience also concludes with a stage show of multiple performers and dancers.
Both of these cultural shows will provide hotel transfers inclusive in the ticket price.
Shopping Malls
If Shopping Malls are your thing, then Phuket has you well covered, with Jung Ceylon in Patong, and Central Festival in Kathu. Like most decent shopping malls, these have cinemas (screening predominantly in English), many restaurants to choose from and obviously a heap of shops with most of the big international brands represented, as well as some local vendors too.
As Patong is the epicenter of tourism in Phuket, Jung Ceylon has more entertainment options than Central Festival including a ten-pin bowling alley, amusement arcade, and a gun-range with real guns and ammunition (for the bigger kids amongst us).
Whilst all of these suggestions below are personal opinion, I'll try to keep the recommendations as unbiased and as factual as possible.
Our choice of the best pubs in Phuket
As far as the traditional type of English, Irish, Aussie, or American style sports bars or pubs are concerned, you'll find a suitable choice reasonably close to most areas in Phuket as they are well spread around the island.  The names to search for on Google are O'Reillys Irish pub and the Aussie Bar on Bangla road (which is great for Aussie sports fans) both of which are in Patong.  Bill Bentley's at Turtle village north of the airport, and Pepper's near Laguna resorts, are also good classic pubs.
My choice out of the best pubs in Phuket though for a party atmosphere is Timber Hut in Phuket town.  This place gets jumping later in the evenings after 10 or 11 and is usually where most end up during a night out in Phuket town.
The crowd is very mixed here with a combination of local Thais, expats living in Phuket, and travelers staying in Phuket town.  They have a great live band that plays most evenings, and DJ's in between.  Expect dancing, very reasonably priced drinks combined with a great, fun, party vibe.
Check out our holiday destinations for Aussies recommendations.
Our choice of the best Phuket bars to pay a visit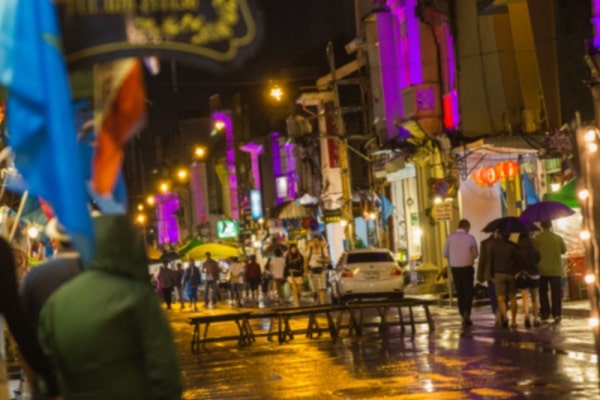 Phuket town has a great collection of small independent gin bars, cocktails bars, bars with live music, and craft beer establishments which are mainly centralized around the Phang Nga road area. This area is definitely worth a visit for some great restaurant dining, and perhaps a bar crawl afterwards.  As Phuket expats, this is often our go-to itinerary for a night out with friends.
So, I'll make it easy for you, and break the type of bars down into two categories and my preferred picks in both.
Beer Bars
Beer bars are basically normal outdoor bars that are usually grouped together under one roof.  In and around Patong and Karon, these Phuket bars will usually have poles that girls 'jig' around… for want of a better word!  These places will also have waitresses and hosts, but most of the girls hanging around these bars are 'business girls' you might say, and you can normally expect them to be very 'friendly'.
The bar I suggest is called Crazy Horse near the eastern end of Bangla Road.  Here you'll find a very athletic, pole-dancing line-up of performers every evening.  …more the athletic style of pole dancing, not so much the erotic.  So, it's a nice variation to the hundreds of other bars that have generally very disinterested girls 'jigging' around their poles. This place is a very bright, fun, loud, party like atmosphere in a type of establishment that is a big part of what makes Patong the popular hotspot that it is.
Go-Go Bars
Go-Go Bars are a similar variation to the above however the girls working there rotate through more elaborate shows on stage and are quite often completely nude. For obvious reasons, this all takes place behind closed doors, unlike the Beer Bars discussed above.  If you are to visit only one, then I must suggest the original Suzie Wong's bar in a side street, just off Bangla Road in Patong.  Here you'll find a very playful and fun atmosphere, and the order of the day here is to whack and be whacked! All in good fun, there's small rubber tubes that are used to whack the performers on stage, and they'll give it back to the punters even harder.  They're painless, but make a big whack noise, and help create a fun and unique Thai girly bar experience!
It's worth noting that in both of the above establishments, women clientele are very welcome and frequent these places as well.
Phuket Beachclubs
A growing trend in Phuket has brought a rise in the number of Beach Clubs opening up around the island.  They are scattered along the west coast beaches and are a great way to spend a day for those that enjoy the party atmosphere during the day time whilst spending time at the beach. Most will have a DJ roster that starts early afternoon, going well into the evening on most days.  These clubs are quite large in size, have large restaurant areas, large swimming pools and are also beachfront properties.
The clubs of note are Catch by Twin Palms at Bangtao (the original and probably most well-known), Café Del Mar in Kamala, and Xana at Bangtao beach.
My preferred pick of this type of Phuket bars for daytime partying is Café Del Mar, and it is probably the most popular throughout the day amongst tourists. It has great design features, a quality sound system, and at every sunset a magnificent fire twirler show which the kids and newcomers to Thailand will love.
All these clubs often host large international headline DJ events throughout the year.  For the most consistent party atmosphere at night time, Catch Beach club manages to pull a crowd of both holidaymakers and locals almost every night of the week, all year-round.
Phuket Night Clubs
Phuket's nightclub scene is quite limited, however with all the competition I've listed above, you can see why!
In saying that, Illusions on Bangla road is set up to a high-level international standard for a large crowd capacity, excellent sound and lighting, and a roster of famous DJ's and acts performing throughout the year.
Phuket nightlife tips
When it comes to Phuket nightlife tips there is one  I just have to give you. That is, to be careful on the roads when heading to Phuket nightlife events.  Few holidaymakers that come to Thailand are experienced in driving in the hectic environment Thai roads so often deliver.  So especially when out drinking, catch a taxi or tuk-tuk.  Police officers in Thailand are checking for intoxicated drivers more and more frequently.
Many often complain the taxis in Phuket are expensive, and yes, they are more expensive than Bangkok, but it's important to keep the costs in perspective.  They are still a lot less than you'd pay in most developed countries and the distances in Phuket traveled can often be quite high.
One final aspect of Thai Nightlife
It'd be remiss of me if I wasn't to discuss another aspect of the more colorful nightlife that Thailand is famous for when writing a nightlife guide for Phuket.  So here it goes…
The sex industry in Thailand is widely known across the world and is an openly accepted occupation within Thailand.  Often the men and women working in the industry come from rural provinces of Thailand where decent paying jobs are harder to come by. The lure of better wages, minimal experience requirements, and limited qualifications in order to find work are often the factors that attract.  Interestingly, a large portion of these workers has better than average English standards.  The sex tourism industry in Thailand is obviously a very big business, evidenced by the huge number of establishments to choose from all over the country.
So, there you have it, a wrap up of the Phuket nightlife to explore when on holiday here. But remember it's not all about the Phuket nightlife. In fact, joining Simba Sea Trips on Phuket Boat Trips to glorious local islands is also an experience you are guaranteed to enjoy.
What are you waiting for? Hit the town and also mix up the day and night time activities by booking a daytime boat tour to one of Phuket's nearby islands, for an experience you will never forget!
Category
Recent Posts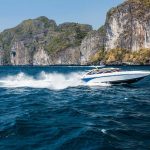 30 Jan 2022
Phuket boat price variations in 2022
read more