8 Nov 2020
Paradise Beach in Phuket
One of the most attractive beaches in Thailand is the Paradise Beach in Phuket. The ironic bit about this beautiful beach is that it is compact and barely 150 metres. But its compactness has not compromised the beautiful view across the Patong Bay. Plus, it is only 4 kilometres from Patong Beach.
At Paradise near Patong, you will find some two sandy bays that have got clear blue water, fine and coconut trees. These coconut trees give visitors the enough shade. There are also lots of large granite rocks and a coral reef.
Being a small beach, it's quite remote and some people used to have trouble finding it. But once a concrete road was built, it's become much easier to access. These days, it is gaining popularity mainly because of the infamous Phuket Full Moon Parties that are organized here. So, because of this increasing popularity, there are lots of bars and restaurants as well as lots of beach chairs to just lounge.
This Paradise near Patong has lots to offer and has become trendy because when the main beach gets crowded, all one has to do is to just walk about 100 meters and a few flights of stairs will lead you to an unexpected sandy cove.
How to get to Paradise beach
Being near Patong beach, if you are approaching the Paradise Beach in Phuket from there, drive south to the bridge that leads to Amari Phuket. Take a right after the bridge then head on a few kilometres, pass the Marriott Merlin Beach Resort and follow the road to Emerald Bay. You will find steep gradient with a narrow-twisted road that will take you down to the Paradise Beach carpark. At the car pack there is a free shuttle that ferries visitors to the beach
What to enjoy at Paradise Beach
The main beach
If you had ever visited the beach a while back, you will be taken aback by how much the main beach had greatly transformed in the current years. These days, it's not really the crowded beach it used to be. Its now become like a mix of a village and a shopping complex with more restaurants around the beach, colourful shops, bars, dance floors… you name it. Much as there is an entrance fee to the main Paradise Beach in Phuket, this place still pulls the crowds.
Paradise Beach Club
The beach club is the life of the whole beach and it offers lots of activities such as SUP boarding, snorkeling, kayaking and scuba diving. There are 3 rocky capes as well as a reef that lays 100 metres off the beach that snorkelers can enjoy.
There are lots of other activities to enjoy at this Paradise near Patong such as swinging from a rope tied to a tree branch and into the water, beach volleyball or you could just lay on the beach. For food, you can have some Thai and international cuisines at the onsite restaurant, served under your sun lounger or indoors.
Full Moon Parties
If you are looking for the biggest beach party in Phuket, then you will find it at Paradise Beach in Phuket. Fashioned after the infamous Full Moon Party on Koh Phangan, this version of the full moon party is an all-nighter seaside gig that is more upscale and well-orchestrated. It happens every month on the night of the full moon. DJ's, tourists, locals and expats all head on hear to party and dance till dawn.
Tickets go for about 1,000 baht and can be purchased from travel agencies or online.
They also have half moon parties at the paradise beach. But the Full moon ones are definitely the most attended.
Time to leave Paradise Beach?
If you are done with your Paradise beach activities – then it is well worth venturing to some of the other hugely popular Phuket beach locations. Whether this be James Bond Island, Kata Beach, Karon or the incredibly popular Maya Bay. For those looking to journey to Maya Bay, our phi phi islands boat tour can take you there.
Whatever your preference, we are sure that you'll have the experience of a lifetime while in Phuket. We hope you enjoy your stay!
Category
Recent Posts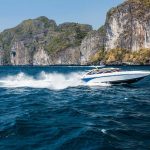 30 Jan 2022
Phuket boat price variations in 2022
read more