26 Nov 2020
Phi Phi Viewpoint
If there is only one thing you will love when you visit Koh Phi Phi island (which is definitely not the case) it's the Phi Phi Viewpoint. The island has 2 large rock formations that are linked by long band of sand. One thing that visitors who stay in the nearby town and those who visit the island love doing is the viewpoint hikes that never disappoint. This is because these viewpoints offer the perfect spots for them to get the perfect photos of Koh Phi Phi.
In this article, we will look at some of the things you can enjoy and what this viewpoint has to offer.
All you need to know about the Phiphi viewpoint

How to get to the Phi Phi viewpoints
One thing I will have you know is that it doesn't take much work to get to these amazing viewpoints. All you need is to take that steep hike that starts with a few concrete stairs, which is not too challenging, and you will be on your way to the highest point on the Phi Phi island. The trail is about 20 kilometres and will take you about 20 to 25 minutes each way. (P.S. Sometimes it gets pretty hot. Plus, there are mosquitoes waiting to take a crack at you so bring a repellent.)
If you want to skip the hike, the other option is to take dirt bike (motor bike) taxis which ferry visitors up and down the steep hills where beautiful viewpoints that offer great photo-ops await. Some of these taxis charge a round trip price so they will wait for you when you reach at the top to finish enjoying your view to bring you down the hill.
While at the Phi Phi Viewpoint visitors take 2-bays-view pictures of Koh Phi Phi – One of the Tonsai Bay and the other of the Dalum beach. The limestone cliffs offer a majestic backdrop.
Viewpoint charges
In recent years there is a charge for visiting the viewpoints. So, if you are planning on taking the hike to the viewpoints, you need to have some cash on you.
When you reach the first viewpoint, you will be asked for a small entrance fee. It is about 30 baht. There is no escaping this one as there is no alternative route to the top.
The fee at the Phiphi viewpoint is not fixed. It keeps varying. And if you are lucky, this fee will come with a bottle of water to help you quench your thirst in the hot weather as you continue with the hike up. So, with such fluctuations in the charges, you better have enough cash on you because it could be more or less…
Usually after getting their tickets, visitors rest as some selfies. But to be honest, on this level, this isn't the Phi Phi Viewpoint you were taking the hike for. So, you keep moving…
What to expect when you reach the top!
After about a 10 to 15 minutes climb, you will have gotten to the top at the second viewpoint.
If you arrive late, the place can get pretty crowded so its better to take the hike much earlier. There are huge boulders on which people climb to take photos and selfies. So, if you find the place crowded, you might have to wait a while for that selfie.
Remember I told you about how it gets hot and how you need to have cash on you, well, lucky for you, there is a small store that sells drinks and ice creams that will cool you off as you enjoy your view.
Then there is that beautiful panoramic view of Phi Phi you broke a sweat for while taking that hike up to Phi Phi Viewpoint. Trust me, that sweat is worth the while. You can just hang out here and soak in this magnificent view. Plus, if you come in the evenings, you can catch…
The Koh Phi Phi sunset at the viewpoint
Both Koh Phi Phi Viewpoints face west into the island. Can you imagine how beautiful the sunsets the sunsets can be if you manage to catch them?
Best time to visit the PhiPhi viewpoints
One secret I will share with you for free is that the best time to visit is at sunrise. This is mainly because the temperatures during this time of morning are much lower. Plus, the place is less crowded. Want to know why? I am guessing it's because most people are still asleep after the hard partying, they did the previous night. So, if you really want to enjoy the views, take the hike up the Phiphi viewpoint early.
Sunset is also a great time if you are one that loves the sunset view. Remember to carry a head touch or flashlight when hiking at these times as its normally considerably dark.
Have a lovely hike!
Category
Recent Posts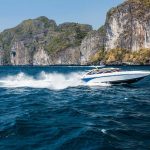 30 Jan 2022
Phuket boat price variations in 2022
read more