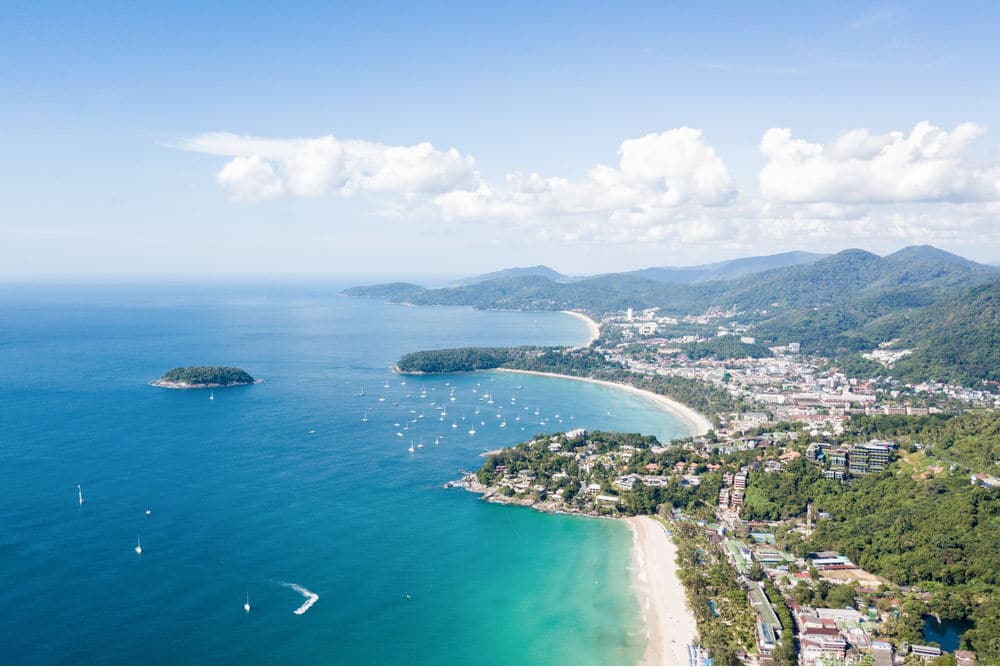 28 Feb 2023
Where to Stay in Phuket
We give you the tips on where to stay in Phuket
Updated 2023! With the tourists flooding back to Phuket following the Covid pandemic outbreak, it is a hotly contested accommodation landscape in the peak seasons. So where should you focus your attention on staying?
We will try to make it easier for you to decide which Phuket hotel is best for your situation.
Best places to stay in Phuket

Phuket Town
If it is your first time traveling to Phuket, we suggest you stay at a place in Phuket town. Phuket town is the capital of the Phuket province and it has most of the things you will expect from your journey. Since most people go there for the first time, there are plenty of things to do and plenty of things to see, while it is at the center of hundreds of activities you can join. You will find many restaurants and places of interest while also being in an urban environment different than what you were used to. You can find plenty of accommodation options and family-friendly places all around the town.
The Phuket Town area is perfect for travelers that want to learn about the culture and history of Phuket since there are plenty of places that you can visit and learn about the heritage. Phuket has an interesting history and a colorful culture, perfect for first-time visitors. You will be able to find things such as the Phuket Culture Museum, an amazing experience with still scenes and magnificent pictures to learn about the past of Phuket, you will find the Old Phuket Town, a place everyone visiting Phuket should visit and other places that scream history.
In addition to those places, you will find numerous temples and cultural places of interest.
Some of the highlights are:
Khao Rang climb – this is where you can see the southern part of the island and the whole city in only one glance.
Monkey Hill climb – a fun experience for kids and adults alike where you can see monkeys in their natural habitat
Chalong Temple – set foot on one of the most visited, respected and the largest temple in Phuket, and feel the awe
Phuket city hotels are some of the best hotels you will find around the province since there are huge numbers of tourists that visit Phuket every year. If you are wondering where to stay in Phuket and you are looking for a 5 or 4 star hotels in Phuket, you will be able to find plenty of them right here at the Phuket town.
Phuket town is a safe choice and one of the best places to stay in Phuket since you don't compromise anything. Not only are you close to the center of everything, but you are also able to have sea views from different spots in the town. You are close to a lot of beaches in Phuket and in the epicenter of glorious temples and hubs of history scattered all around the narrow roads of the town.
Patong Beach Phuket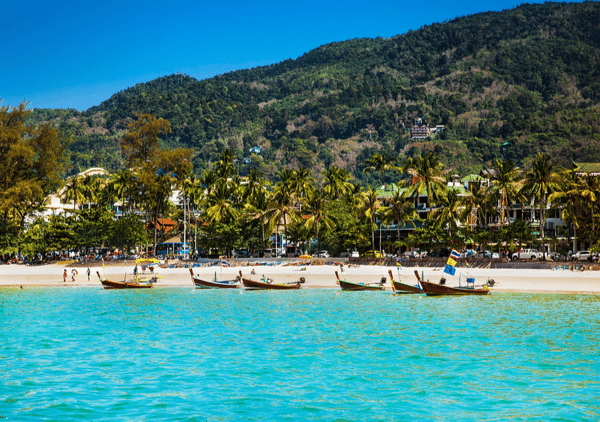 If you are looking for something more vibrant then you should consider finding Phuket Accommodation Patong Style! Patong Beach Thailand is one of the most famous places to visit for Nightlife and exciting holidays. The area of Central Patong has plenty of beach clubs and it also has the world famous Bangla Road, home of some of the best beach clubs and bars in Thailand.
Patong beach is an amazing place to go for a relaxing day under the sun. It's a white sand beach that has plenty of space for everyone and you can lay there (with sunscreen) until you take in all the beauty and the warm breeze. It's an amazing beach but it can sometimes get a bit crowded and loud. In that case, just walk a little bit further down the stretch of the beach. Besides the Patong Beach, you should also consider finding a place in Patong Beach for the amazing Soi Bangla!
If you are looking for one of the most exciting streets of the area, Phuket accommodation Patong is one of your best choices. This is where to stay in Phuket if you like partying. Find a place not only in Patong Phuket but also near Soi Bangla, especially if you are planning to have one, two or more drinks at the amazing bars of the area.
Some of the highlights are:
Patong Beach Thailand – a white sand beach that is welcoming whoever likes a warm breeze and cool waters
Soi Bangla – a street for whoever likes to party, have amazing street food, fresh entertainment, eat authentic Thai food
Boxing Matches – Watch Muay Thai matches at the Bangla Boxing Stadium
Visit nearby beaches and explore the island – there are plenty of places you can visit when in Patong area, and it is also very close to amazing destinations, with a short ride
The atmosphere at Patong is urban, but without the busy lifestyle and the noise of the city, especially if you are staying at the Northern or Southern side of Patong. There is plenty of places to stay, including some of the best 5 and 4 star hotels in Phuket, where you will have amenities such as air conditioning free wi-fi and every comfort you might expect.
During your day in the area you will find plenty of activities to keep you busy and awesome places to visit and admire. If you want something noisier, then you should consider finding a place in Central Patong.
Karon Beach Phuket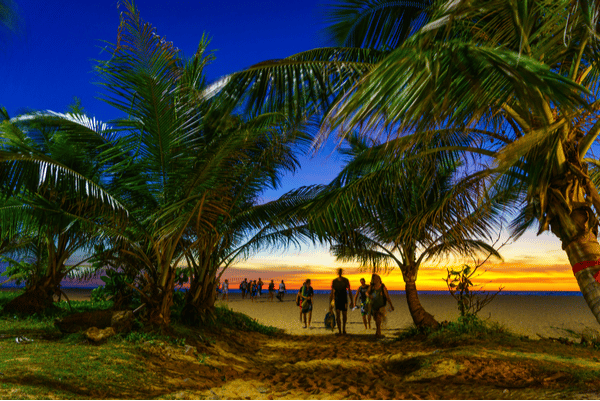 Karon Beach is for the people that are looking for something more chill. If you are looking for a serene place where you can enjoy the beach and the sun, then Karon Beach is probably the best option for your time in Phuket. Unlike Patong, this is not a Tourist Party destination. Karon and Kata Beach are 2 locations where you can find more peace and quiet than partying and busy streets. Kata Beach is a place that is a bit further away from Karon, but it still has access to a lot of things such as white sand beaches with transparent waters. If you are wondering where to stay in Phuket and you need some relaxation then look no further.
In the area of Karon Beach, you will find many places such as cafes and restaurants where you can have a nice beverage and traditional meals. If you are in Karon, you will need some time to get to the beach, but not a lot. There are a lot of beautiful beaches packed with palm trees and idyllic vistas with crystal clear turquoise waters. In fact, the beach is the second largest tourist beach on the island, with a crisp warm breeze, white sand beach, and refreshing cool waters to cool you off during warm weather.
Another good aspect of Karon is that it is relatively cheaper than other places in Phuket. If you are wondering which Phuket hotel is best for someone on a budget, then Karon Beach will probably have the best options for you to stay at without breaking the bank.
Some of the highlights of Karon Beach are:
Relax at the Karon Beach – one of the most beautiful but not as busy beaches with white sand and crystal waters
Enjoy the unforgettable view from the Karon View Point – if you hike up to the View Point of Karon you can have views of the amazing coasts, the endless blue of the sea and the forests that surround the area.
Khlong Bangla Park – find some shade in one of the most serenes parks you will ever visit
Pad Thai Shop – have some unforgettable food at the local fare, at a fair price
Kata Beach
Kata beach, a place that is a bit further away from Karon Beach is also a nice place to go if you are looking for something more relaxing than the wild Patong area. Equipped with a traditional market on Thursdays and amazing places to have food at, while having one of the most spectacular beaches on the island.
Some of the highlights of Kata Beach:
Kata Beach – a beach with cool blue waters you can spend your day at sunbathing or on specific days, go for surfing
Kata Beach House Reef – take a colorful dive and watch sea creatures in their habitats
Take a hike through the jungle – engulf yourself in nature and discover the amazing cafe in the jungle for the most relaxing drink of your life
Naka Kerd Mountain – see one of the biggest white marble Buddha statues on the planet on the mountain and breath nature boosted clean air
Have cheap food – Places such as the Red Chair Cafe have awesome cheap food, made for kings at minimal cost
Overview of where to stay in Phuket
In case you are wondering where to stay in Phuket, there are many areas that cater to every taste! Find the area that is most suited for you according to your needs and what you want to get out of your trip. If you want something exciting with party vibes, go with Phuket accommodation Patong style. If you are looking for Phuket City hotels, go with Phuket town, since it's one of the best places to stay in Phuket if you love history and culture. If you are looking for something cheaper and calmer on the other hand, you can find 5 and 4 star hotels in Phuket.
The most attractive tourist destination areas generally do not provide much in the way of accommodation (we are talking Maya Bay, Krabi and Phi Phi). This is not a problem though as day trips to these areas are easy with Simba Sea Trips Phuket Boat Tours. Therefore, staying in the central regions of Phuket is likely more advisable. But no matter what you are looking for, Phuket has you covered, so where to stay in Phuket is no longer a question that needs answering!
Category
Recent Posts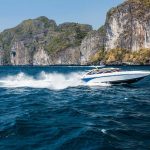 30 Jan 2022
Phuket boat price variations in 2022
read more