7 Feb 2023
Cost of Living in Phuket
If you are planning a trip to Thailand or move there you might be wondering what the cost of living in Thailand is. Well according to those who have been there, most of them say that life in this country can be pretty affordable. But just like most places around the world, it all depends on where you choose to stay on the Island or where you choose to live.
There is a dramatic difference in prices between west coast multi-ethnic resort areas, the capital city and the east coast rural towns. Since the end of the 90s, Phuket has had speedy developments, hence making the cost of living in Phuket a bit higher. That said though, compared to the cost of living in the western countries in the US, Australia and European countries, living in Phuket is relatively affordable. That is what makes Phuket one of the most preferred travel destinations by foreign visitors from all over the world.
Well, here is a rough idea of what it might cost you, from dining, accommodating, clubbing as well as hoping around Phuket.
Phuket cost of living
2023 Update! Prices are rising globally but Thailand continues to be ultra-affordable compared to other desirable destinations in the region. 
Food
Speaking of the cost of living in Thailand if there is one thing we can say about Thailand is how their delicious local cuisine still remains pretty affordable. When it comes to eating you can live on a budget. When I tell you it's affordable, to enjoy some delicious cuisine at a simple local restaurant in Phuket town, it will cost you about 50–70 baht. Some of the dishes in this range are rice served with fried chicken with basil leaves. In Patong beach, at tourist spots, the same meal will go for between 80 and 180 baht
In high end restaurants, the same dish will be charged as high as even 700 baht.
As for international cuisines in cosmopolitan towns like say Phuket, the food is slightly pricier compared to Thai food. That said, tourists can still get their preferred international food at affordable rates. But since we are talking about the cost of living in Phuket, depending on the type and class of restaurant, the difference in prices might vary rapidly.
For example, the cheapest it will cost you for a dish like a club sandwich with French fries is between 80–100 baht. At a 4- or 5-star restaurant, this will dent you a whooping 400–600 baht.
Hotels
Being an Island that receives about 35 million visitors annually, having lots of rooms and enough accommodation to host such a massive crowd is necessary. The island has about 85,000 rooms ready for its visitors. There is a wide selection and variety of hotels. So, don't let the Phuket cost of living worry you too much because when it comes to accommodation whether you are a mogul with loads of cash to your name a just a simple backpacker on a tight budget, you will always find accommodation that suits your holiday needs.
Budget hotels in Phuket town range from around 300 baht to 1,300-baht, midrange hotels charge between 1,500 to 3,000 baht whereas the high-end ones charge between 5,000 to up to 500,000 baht per night. Plus, if you want to blow it all, you can also get 7-villa complex at much higher prices, for instance Trisara, Banyan Tree Phuket, or Sri Panwa Phuket. So, when we tell you there is accommodation for every budget, trust me, there is.
Night clubs, Partying and Beer
When speaking of Cost of living in Phuket you definitely need to know the cost of a cold beer because you will during and after sunbathing at the beach or exploring Phuket. The place can get pretty hot! They have their local beer as well as international ones such as Heineken, Carlsberg, Asahi, Tiger, plus you will also get a great variety of genuine Belgian beers. For cheaper beer, buy them at the local grocery stores, 40 baht for local beers and 50 baht for the likes of Heineken. In high end joints they can go up to 280 baht.
As for the Phuket cost of living nightspots, most have no entrance fee. You might also get a free drink in places where they charge entry fee. You can get special offers like happy hour or open bars for some hours for an entry of 700 baht. Drinks are cheaper at bars as opposed to nightclubs. Cocktails on the other hand can range from 100 baht to 450 baht depending on the spot.
Trips to Islands
You could visit islands closest to Phuket using long-tail boats at 1,200–1,500 baht. A speed boat to say Phi Phi Islands will cost 1,400 and 3,000 baht inclusive of lunch and snorkelling equipment. If you are in no hurry, take a ferry which will cost you 500 baht.
Or better yet, splash out and get your money's worth with a private charter boat trip with the team from Simba Sea Trips.
I bet you now have a rough idea of the cost of living in Thailand so start planning that trip bearing all that in mind.
Category
Recent Posts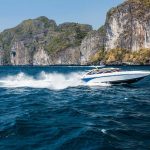 30 Jan 2022
Phuket boat price variations in 2022
read more