16 Oct 2019
Kamala Beach
Travel down to Kamala Beach
Kamala Beach is an extremely popular beach located along the main road that heads down from Patong Beach. It is an ideal destination for tourists and considered one of the best things to do in Phuket. This is in large part thanks to a combination of soft white sand, crystal clear waters, a shopping area and a variety of restaurant options for those visiting the region.
There is also a great selection of hotels available within the Kamala region that provides plenty of selection for those looking to stay in the Kamala area for a sun-drenched holiday. These hotels vary from those that are ideal for young families through to those that are more suited for people looking to stay in romantic hotels.
The best things about Kamala:
Excellent conditions for surfing and other water activities
A great range of hotels to choose from
High quality restaurants with several located right along the beach
Not over-run with beach loungers
The less positive aspects of Kamala:
Not the best scene for those looking for an active nightlife setting
Not a great opportunity for sight seeing with the exception of the beach itself
Dining out
It was not that long ago that the variety of food venues at Kamala was rather limited. Nowadays, there are ample opportunities to indulge in delicious cuisine. Some of the older restaurants remain and these places are great for tourists looking for a cheap, slower paced venue to satisfy an empty stomach after a morning's swim. However, nowadays the range is much more diverse and provides choice for those looking for a more upscale dining experience.
The more upscale places are generally located within the Resorts and Hotels that surround Kamala Beach and most feature picturesque panoramic views of the region. The most popular of which include Silk at Andara Resort Phuket and Sunset Grill at the Hyatt Regency.
Quenching your Thirst
While there is a significant number of dining options along Kamala Beach, the choice of night spots are much fewer. Incomparable to an area like Bangla Road, Kamala Beach relies more on the recent arrival of HQ Beach Club and Cafe Del Mar for their nightlife. These two establishments have without question lifted the nightlife profile of Kamala Beach but it is definitely not renowned for its 'after-dark' activities.
In addition, there are a few remnants of the old Kamala Beach nightlife, with these smaller bars relying more on drawing in potential customers through the friendly company that accompanies a night time drink within these venues than the venue itself.
Hotels worth considering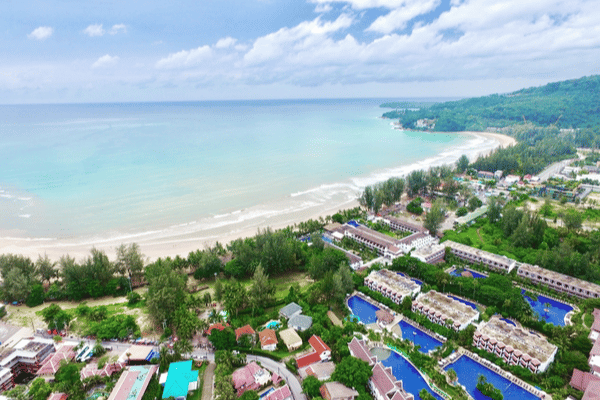 Due to the increased popularity of the Kamala Beach region over the past few decades, the selection of hotels available to visitors has dramatically increased. You are hard pressed to go wrong no matter which hotel you choose for your stay with some of the best hotels in Phuket located in the region.
With that said, there are a few that we consider more memorable than others:
MOST LUXURIOUS – Hyatt Regency
One of the most recent additions to the Kamala Beach area, the Hyatt Regency contains 201 guestrooms and is situated right near the beach on a terraced hill. It features high-quality restaurants, an outdoor pool, and a 24 hour fitness centre. It also is home to 6 large sized meeting rooms and is therefore also suitable for corporate getaways.
BEST FOR FAMILIES – Novotel
The Novotel is our pick for the best hotel suitable for the whole family. This establishment provides a children's club, pool, and supervised care facilities that makes it an ideal venue for those holidaymakers travelling with young children. The hotel contains 166 guestrooms and the close proximity to the beach makes it an ideal choice for those with infants and toddlers.
BEST LOCATION – Kamala Beach Resort
The Kamala Beach Resort is located in very close proximity to Phuket Fantasea and possesses an extremely impressive outdoor pool for those looking to escape the beach and sunbake in a glorious pool setting. This enormous venue contains 353 guestrooms and also possesses 2 large restaurants and 4 bars. It is perfectly situated between Fantasea and Kamala Beach – a 5 minute walk to either.
While the Hyatt Regency, Novotel and Kamala Beach Resort our our favourites, there are many other great options to choose from for singles, couples, families and anyone in between.
Activities around Kamala Beach
While not known for providing a laundry-list of activities to do for families and couples alike, the Kamala Beach region does provide some great offerings for those visiting the area.
The most notable of which is Phuket Fantasea Park. This incredible park venue is well-worth a visit and you'll see stage performance featuring incredible displays performed by acrobats. The park also is jam-packed with shops and games immersed within an attractive village.
Within the Kamala Beach surrounds there is also a fresh local market that contains a large amount of fresh fruits and vegetables, as well as many other goods and snacks.
With the exception of the Fantasea Park and the local market , there is not much else to see in terms of 'off-beach' attractions but that's plenty fine for most as the beach, Fantasea Park and the fresh market are more than enough for most.
So what is the Beach like itself?
Kamala Beach itself is packed with a large amount of activities for beach goers including snorkeling and surfing. The time of year dictates what activity you would want to undertake. If you are at Kamala Beach between December and April then snorkeling would be ideal given the calmer water conditions. However, if in the region between May and November, given the rougher sea conditions, you'd be best suited to grab the surfboard and head out into the water to catch some waves.
What is the best time to visit
Kamala Beach is a popular tourist destination within Phuket no matter the time of year. Yet, visitors to the region will need to plan their trip around the type of experience they are looking for. Those who are keen for a vibrant scene would want to book during the peak season. Those who are looking for a quieter environment would want to book their trip for the June to November period. Further, avid surfers would be looking to venture to Kamala Beach in the May to November period when the sea conditions are rougher and therefore the ocean ideal for surfing.
No matter what time you head here, there is bound to be a time that suits everyone and we highly encourage you to give Kamala Beach a look!
Category
Recent Posts