12 Jan 2021
Laem Ka Beach
If you are looking for tranquility in a beach, then Laem Ka Beach Phuket is where you will find it. This untouched, peaceful beach is perfect for people looking for some quiet and less crowded spots, making it perfect for picnics. Located at the southern part of Phuket near Rawai, this hidden gem is mostly known by the locals. What makes it a little less known is that a couple of years back, it was closed to the public because they were constructing a new hotel there.
How to get to this little hidden gem
If you are from Chalong, the road that leads to Laem Ka is practically at Rawai Beach. Before taking the turn to Laem Ka, there is another smaller road that takes you to a smaller beach called Laem Ka Noi Beach. Noi actually means small. It is only about 66 meters in length and its widest point is like 20 meters. This beach is like a sister beach to Laem Ka Beach Phuket. This is also a perfect getaway place if you want to hide from the crowd because it is also hidden even more. Well at least its on google maps so you can find it. These two sister beaches are 450 meters apart.
Anyway, we veered off a bit there. Let's get back to knowing more about the main Laem Ka. If you are coming from Rawai, drive towards the Shell museum until you see a 7-Eleven store that is opposite the entrance to Rawai temple. After the store drive on for about a kilometre through the coconut plantations to the carpark area. To get to the beach, you will have to walking down a steep concrete staircase.
Useful tip: Wear comfortable shoes so that will allow you to walk down the staircase easily. There is also some rocky area which is towards the right side of the staircase.
So, what's so great about this hidden beach?
One thing you probably don't know about this hidden gem us that it is the only eastern-facing beach in the southern part of Phuket where visitors can get their swim on. The waters are shallow and calm enough making them very safe for kids to play they splashing games as adults have some quality and quiet time by the sea. Seeing as the waters are safe for kids, then it means that Laem Ka Beach Phuket is perfect for family outings.
There are small shops at the right side of the beach where visitors can do some beach shopping. There are beach chairs under the palm trees where you can just chill and enjoy the tranquility. You can also do this lounging as you sip some fresh coconut water, beer and soft drinks which can be purchased from vendors.
The beach is also the perfect spot for taking lovely pictures as it has a very pristine background of its smooth white sand and calm blue waters.
So why consider Laem Ka Noi Beach as an alternative?
There are times during the low season where there might be no vendors to sell snacks and drinks to you or beach chairs to sit on. Well, this is where this sister beach Laem Ka Noi comes in handy. It is the perfect plan B especially when you need a meal. The water is also calm and perfect for swimming. However, you need to watch out for some submerged rocks.
Well, that's a plus anyway because it makes it harder for jet skis and parasails to pass which can be pretty annoying if you are looking for some peace and quiet. So, while here you can even enjoy a quick nap or walk on the big rocks.
Laem Ka Noi Beach is also great for meals. They have a small restaurant called, Laem Ka Noi Seafood. So, if you find that there are no vendors to buy snacks from at Laem Ka Beach Phuket and hunger pangs hit you, then you are in luck because this seafood restaurant serves the tastiest traditional Thai cuisines. They don't have accompaniments. Just some delicious traditional Thai seafood. This serene restaurant also has picture-perfect views overlooking the beach and Koh Lon island.
Conclusion
These two sister beaches in Phuket are worth visiting especially if you are looking for places you have never visited in Rawai. They are both very peaceful hence making them perfect for some picnics and family time. They are perfect for swimming, splashing, sunbathing as well as just having some alone time for yourself. Much as they are not easily accessible, if its some quiet time you are looking for, they are worth the trouble.
The striking rocks in the water and the sandy areas are great for selfies. So, what are you waiting for? Head on there and check out these two tiny dreamy beaches for yourself.
Category
Recent Posts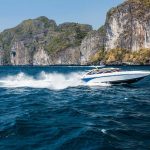 30 Jan 2022
Phuket boat price variations in 2022
read more