5 Jun 2020
The Spectacular Nai Yang Beach in Phuket
If you are visiting for the first time, you may not know of Nai Yang Beach Phuket. However, this is one of those beaches that is very popular with returning visitors. It is very beautiful and has ample trees that make it very shady.
Much as it has lots of tiny bars and restaurants, this beach still remains pretty peaceful because it is not located near the major roads. So it makes it one of those places where you can just go to escape and unwind. It has a massive beach and the waters here are quite shallow. It has not been developed much which gives it a feel of the old Phuket atmosphere.
Things to experience in Nai Yang Phuket beach
There are a lot of things to experience here besides just lounging on the beach. This beach is simply charming. Below are some of the things you can do when you visit here…
Chill on the beach
Nai Yang Beach Phuket is a large sandy beach. It has some beach chairs where one can lounge here. As mentioned above, the water is pretty shallow. That said, it's not usually as blue as most of the other beaches in Phuket's west coast.
As you approach the northern part of the bay, that is when you'll start appreciating the beauty of the beach as well as the sea.
The beach is well lined with casuarina trees so locals tend to love siting under the shade while enjoying drinks, food as well as the breeze from the sea.
Take part in Kiteboarding
Kiteboarding or kitesurfing is a popular sport at the beach, especially because the water is a bit too shallow for swimming. So instead of being pulled by a boat, a large kite does the pulling. This place operates daily in the months of May through to October. You can also get lessons here as a beginner.
Visit Sirinath National Park
The Nai Yang Phuket beach is part of the Sirinath National Park. This makes it the perfect spot for locals here to get in touch with nature. Most of the locals usually spend their time picnicking and having drinks under the trees as the watch their kids play in the water.
There might be the National Park fee of about 40-baht park fee to consider when you visit there. But if you get lucky, you can just drive in.
The park hosts a mangrove forest and saltwater swamps. You will also find a wooden walkway (about 800 meters long) with signs about the type of plants and animals that live in the forest.
Immerse yourself in the Nai Yang Market
This colorful open-air market opens up three times a week. When open, shopping here is lots of fun experience especially for tourists. There are lots of goods to buy… tropical fruits, vegetables, clothes as well as handicrafts to carry home as souvenirs.
Do some morning Yoga
Lots of resorts in Nai Yang Phuket have yoga classes for guests included for those guests staying there. That said, you could still drop in and enjoy the classes too at a fee. Group classes cost from around 500 baht and private lessons from 1,800 baht
The most popular yoga studio is Baan Yoga Phuket, which is around 5 minutes Nai yang Beach. It runs from Tuesdays to Friday. They also offer morning classes on weekends.
Partake in some plane spotting
Seeing as Nai Yang Beach Phuket is only a 5-minute drive from Phuket International airport plane spotting has become one of the most popular things people enjoy to do when they visit here. Much like Mai Khao Beach, people people love it because they can come here and take selfies with the background of planes landing. This has become more of an attraction than a disturbance.
Stay in Nai Yang Resorts and Hotels
In Nai Yang you will find a good mixture of luxury 5 star resorts and hotels as well as some other ones that are affordable to most budget visitors. Below are some that you can visit:
Slate resort – This is perfect for travelers looking for a tranquil getaway
Dewa Phuket – This is a family-friendly 4-star beach resort
L'esprit De Naiyang – This one has a selection of rooms as well as two bedroom villas and private pool villas
How to get to Nai Yang
The beach is very close to the Phuket International Airport. After the airport, turn left at the T-junction then watch on your right-hand side. Follow the road that leads to the Dewa Hotel Phuket which is pretty easy to spot. Remember you can approach Nai Yang Beach Phuket by passing through Sirinath National Park or just go straight to the beach directly. Remember the National Park fee if you choose the first option.
Category
Recent Posts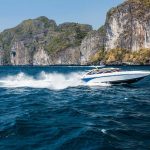 30 Jan 2022
Phuket boat price variations in 2022
read more